COMMON COLOURS FOR MEN SUITS AND HOW TO DRESS THEM.
Posted by:
amazingkozi
| Posted on:
December 27, 2019
A suit is a set of outer clothes made of the same fabric and designed to be worn together, typically consisting of a jacket and trousers .
Health,Fitness and dieting
The traditional colors for men's business suits are black, navy, and gray. Every wardrobe should be built off a selection of dark suits, as that they are appropriate in almost any circumstance.
1.Black suit.When it comes to formality, the black suit reigns supreme. Black is a color reserved for the most formal events, like black and white tie. The black suit is popular and readily available but it is too formal to be worn as a regular business suit and for this reason, it is not recommended for most environments.A classic white, gray, or black t-shirt paired with your suit and a sharp pair of leather sneakers and you're in business.White shirt and black tie combination will always be a foolproof go to combination. Ensure you have a white pocket square otherwise you'll look like a waiter.If you want to level up, you can try a graphic t-shirt or something with some color but just make sure you keep it low key.If you do wear a black suit to a formal wedding, especially one that's black tie optional, make sure you accessorize correctly.
2.Blue suit.Blue is the new black. Versatile in summer, winter, corporate or for pleasure. Blue has never been more popular for men's suits. The spectrum ranges from bright Napoli blues, to lighter hues and of course darker midnight and navy blue suits which can be worn with almost anything.
Light blue>Take a step away from the boardroom appearance of a dark wool suit and think light and bright instead. … Pair it with a white, cream or light blue shirt and a colorful silk tie and pocket square combination.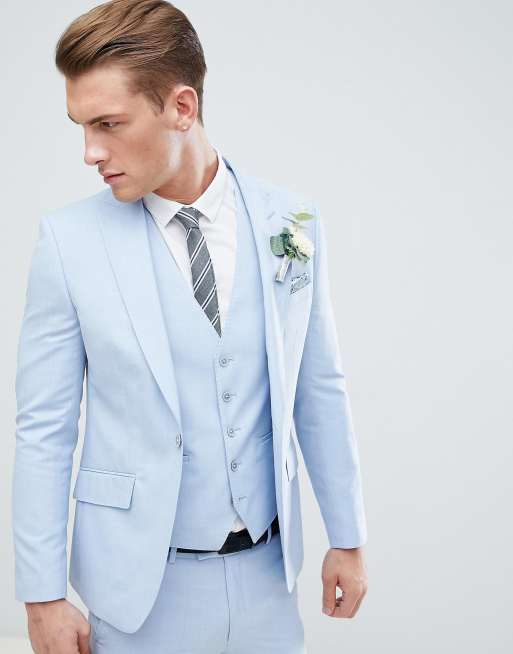 Navy blue>It's important to distinguish navy from other blues: a true navy blue suit is a deep, almost midnight color, not just any dark blue. The latter can make striking suits for more casual occasions, but lack the universal acceptance of navy. Navy blue, on the other hand, can go anywhere.A white shirt is a failsafe option to pair with a blue suit and always creates a classic look. A pale blue shirt makes a surprisingly good pair to a blue suit and creates a neat contrast. For a contemporary and semi-formal style wear your blue suit with a pink shirt.
If your suit is dark or navy blue then a very dark brown or black shoe is better. Brogues, monk straps, oxford or loafers will be the styles of choice. Ensure they have a night shine and a more rounded shape. Remember pointy dress shoes are not the best look when wearing a suit.
3.Grey suit.A grey suit is a worthy addition to your wardrobe and certainly deserves a place hanging alongside your black and navy classics. The sharp and versatile colour is adept at creating a clean and contemporary look that can be worn for countless occasions. It's an ideal suit for when you're starting off, especially if you're younger: it signals wealth and wisdom.
Light grey>Light gray suits are casual wear. They do not belong in conservative offices that still adhere to strict business-dress standard. A man could wear one in a workplace that does not require suits and ties, but should understand the formal limitations of lighter colored suiting.
When wearing light grey suit,
Keep your dress shirt in a lighter color like white, light blue, or some sort of check on white.

Regarding your tie and pocket square, go a little lighter in color for casual and/or summertime occasions.

Wear a darker tie for more formal occasions.

Save your striped ties for the office.
Dark grey>
Few colors offer the cool style and polished professionalism that a deep charcoal grey does.A dark grey suit offers all of the professional styling you want with a sleek twist on a classic look. Pair it with a crisp button down shirt, a tie and a pair of dress shoes for the full effect.Dark shirts are best for intensifying the tone of a grey suit while light shirts work to brighten it. To add some subtle and stylish colour to a grey suit, pair it with a salmon pink shirt. A patterned shirt can turn a classic grey suit into a bold statement look.
Light grey suits are the most versatile, and can be styled with light brown or dark brown shoes. For a mid-grey or charcoal suit, brown shoes in darker shades are best.
#men #fashion #hollywood #dresscode #official #business #wedding #church #blog #fashionblog #education #work #google #wordpress