europe
now browsing by tag
Posted by:
amazingkozi
| Posted on:
January 5, 2020
Tea hot drink made by infusing the dried crushed leaves of the tea plant in boiling water
There are various types of teas and most of them have healthy benefits into our body.These include:
1.Peppermint tea.
Peppermint tea is sometimes referred to as "the stomach healer" because it is known to soothe many gastrointestinal ailments, including stomach aches, stomach pains, stomach cramps, heartburn, gas/flatulence, indigestion and diarrhea, and to promote healthy digestion.
2.Hibiscus tea.
Hibiscus tea prevents hypertension, lower blood pressure, reduce blood sugar levels, keep your liver healthy, help with menstrual cramps, help with depression, aid digestion and help with weight management. Its rich in Vitamin C, contains minerals such as flavonoids and has laxative properties.
3.Chamomile tea.
Chamomile is a herb that comes from the daisy-like flowers of the Asteraceae plant family.It is loaded with antioxidants that may play a role in lowering your risk of several diseases, including heart disease and cancer.It has properties that may aid sleep and digestion, as well.
4.Ginger tea.
Drinking a cup of ginger tea before travelling can help prevent the nausea and vomiting associated with motion sickness. You can also drink a cup at the first sign of nausea to relieve the symptom.Also useful in improving digestion and increasing absorption of food.
5.Oolong tea.
Oolong tea may not be as well known as green or black tea, but it has similar health benefits. These include benefits for heart, brain, bone and dental health. In addition, it may boost your metabolism, decrease your risk of developing type 2 diabetes and protect against certain types of cancer.
4.White tea.
White tea has been shown to protect the body against certain diseases and reduce the risk of cancer and cardiovascular disorders. It also provides natural antibacterial properties, helps with weight loss, and can lower bad cholesterol.
5.Matcha tea.
Matcha is high in a catechin called EGCG (epigallocatechin gallate), which is believed to have cancer-fighting effects on the body.
Posted by:
amazingkozi
| Posted on:
December 27, 2019
Abdominal crunches, bridges and planks are a few of the most popular exercises that can help strengthen your abdominal muscles and create the appearance of six-pack abs.
Not everyone can get six-pack abs THAT ARE VISUALLY APPARENT. Some people have highly defined 8-packs! Some people will never EVER have visually apparent 6-pack abs no matter how skinny they are or how hard they work their abdominal muscles.Body fat must be low but there also has to be muscle tone.
It could take a woman with average body fat about 20 to 26 months to achieve the appropriate amount of fat loss for six-pack abs. The average man would need about 15 to 21 months.
Simple ways to achieve six-pack abs quickly and safely.
Do More Cardio.
Exercise Your Abdominal Muscles.
Increase Your Protein Intake.
Try High-Intensity Interval Training.
Stay Hydrated.
Stop Eating Processed Food.
Cut Back on Refined Carbs.
Fill up on Fiber.
Best Ab Workout For A Six-Pack
Flat Bench Lying Leg Raise.As you keep your legs extended, straight as possible with your knees slightly bent but locked raise your legs until they make a 90-degree angle with the floor. Exhale as you perform this portion of the movement and hold the contraction at the top for a second.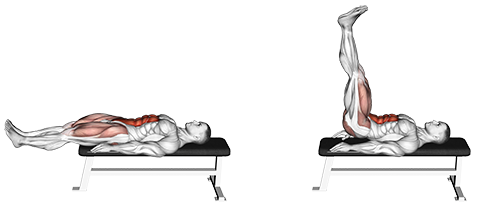 Jackknife Sit-Up.Lie flat on the floor (or exercise mat) on your back with your arms extended straight back behind your head and your legs extended also. … As you exhale, bend at the waist while simultaneously raising your legs and arms to meet in a jackknife

position.When you do a basic jackknife situp on the floor, you are using nearly a dozen muscles, yet your rectus abdominis is the targeted muscle. You also use your obliques, and muscles throughout your thighs, gluteus, chest and calves to complete this move.
Flat Bench Leg Pull-In. Lie on an exercise mat or a flat bench with your legs off the end. Place your hands either under your glutes with your palms down or by the sides holding on to the bench (or with palms down by the side on an exercise mat). Also extend your legs straight out.
Toe Touchers.When done properly, standing toe touches not only work your abdominal muscles, but stretch and work your calves, your hamstrings, your butt and your shoulders. Depending on the variation, they can also offer an effective workout for your obliques.
Crunches.The crunch is one of the most popular abdominal exercises. It involves the entire abs, but primarily it works the rectus abdominis muscle and also works the obliques. It allows both building six-pack abs, and tightening the belly.
Reverse Crunch.The reverse crunch is a basic core strengthening exercise that also improves stability throughout the lower back, hips and spine.Tighten your abs to lift your hips off the floor as you crunch your knees inward to your chest.
The main goal alongside building abs is loosing bellty fat.Here are the foods that help in burning fat in the belly.
1.Broccoli.Broccoli, in particular, is such a standout among all the deep-colored veggies because it's one of the few that contain calcium, which has been shown to increase fat loss, especially in the abdominal area.
2.Eggs.The protein and healthy fats in eggs make you feel full, which keeps you from snacking on empty calories between meals.People who eat eggs in the morning lose more weight and belly fat than those who opt for high carb foods like bagels or cereal.
3.Green tea.Besides reducing your risk of cancer and heart disease, green tea benefits the whole body and contains catechins, antioxidants that studies show can help reduce belly fat.If you sip green tea before a workout, these compounds can also increase your fat burn during aerobic exercise.
4.Yogurt.Yogurt is rich in calcium and research has linked calcium to lower levels of abdominal fat.All the nutrients in food work together, but calcium has been singled out because it may help to increase fat burn, reduce fat absorption, and slightly rev metabolism.
5.Lean meat. Lean meat provides less calories for equal amounts of protein than higher fat meat.Turkey is the best source of lean meat.
6.Bananas.Bananas are rich in healthy fibers that help curb appetite and make the body burn fat. The indigestible fibers that are present in bananas, or a resistant starch, block the carbohydrates from being absorbed by the body. This makes the body burn fat as energy instead of the carbohydrates.
6.Split peas.Plant-based meals that are rich in protein can be a useful way to aid weight loss. Mixing fat-burning foods such as split peas with other beneficial sources of protein is one way of doing this. Examples of this include split pea soup, or split pea dal.
7.Canola oil.
I
ncluding 
canola oil in a healthy diet may help reduce abdominal fat in as little as four weeks.Canola oil is high in monounsaturated fatty acids, which have beneficial effects on body composition, especially in people with obesity.
It should be okay to train Abs daily, but not necessary. The Abs can be trained more frequently than other muscle groups and can often benefit from frequent training but at the same time, rest and recovery is not a bad idea. Choose 2-3 exercises doing 2-3 sets each and train 2 days on 1 day off or every other day.
Posted by:
amazingkozi
| Posted on:
December 19, 2019
Belly fat is excess abdominal fat surrounding the organs in your stomach.
There are three types of fat: triglycerides (the fat that circulates in your blood), subcutaneous fat (the layer directly below the skin's surface) and visceral fat (dangerous belly fat).
One of the most common causes of belly fat is simply eating too much and moving too little. When we eat more calories than we burn each day, an energy imbalance causes weight gain. But there are other causes of belly fat, too. As we age, our metabolism naturally slows down, and total body fat gradually increases.
Effective Tips to Lose Belly Fat 
Avoid Foods That Contain Trans Fats.
Don't Drink Too Much Alcohol.
Eat a High-Protein Diet.
Reduce Your Stress Levels.
Don't Eat a Lot of Sugary Foods.
Do Aerobic Exercise (Cardio) .
Cut Back on Carbs, Especially Refined Carbs.
 Exercises that help to burn stomach fat quickly.
1: Running.
2: Elliptical trainer.
3: Bicycling.
4: The bicycle exercise.
5: The Captain's chair leg raise.
6: Exercise ball crunch.
7: Vertical leg crunch.
8: Reverse crunch.
While any exercise can burn calories, brisk walking for 45 minutes mobilizes the body to dip into fat reserves and burn stored fat. It is especially good for burning internal belly fat, called visceral fat, that not only contributes to your waistline but also raises your risks for diabetes and heart disease.
Ways to Lose Weight Without Diet or Exercise
Chew Thoroughly and Slow Down. Your brain needs time to process that you've had enough to eat.
Use Smaller Plates for Unhealthy Foods.
Eat Plenty of Protein.
Store Unhealthy Foods out of Sight.
Eat Fiber-Rich Foods.
Drink Water Regularly.
Serve Yourself Smaller Portions.
Eat Without Electronic Distractions.
Foods That Banish Belly Fat
Oatmeal. You may think that eating less will help you lose weight, but you should never skip meals, especially the first meal of the day.
Blueberries. Research has shown that a diet rich in blueberries may help diminish belly fat.
Almonds.
Salmon.
Lettuce.
Drinks that are some of the best to include in your diet when trying to lose weight and get healthy are;
Green Tea.
Coffee. Coffee is used by people around the world to boost energy levels and lift mood.
Black Tea.
Water.
Apple Cider Vinegar Drinks.
Ginger Tea.
High-Protein drinks.
Vegetable Juice.
Lemon water.
Grape juice.
Chamomile tea.