gym
now browsing by tag
Posted by:
amazingkozi
| Posted on:
January 9, 2020
A skipping rope or jump rope is a tool used in the sport of skipping/jump rope where one or more participants jump over a rope swung so that it passes under their feet and over their heads.
By doing this exercise daily,you may achieve the following benefits:
Burns calories.Calories burned jumping rope can work out to 15 to 20 calories per minute. The average person could burn 200 to 300 calories in a simple 15 minute jump rope workout. Not just for boxers or kids, rope jumping (skipping) can burn 25% more calories per minute than running.
Increases bone density.Especially compared to running or other forms of cardio, it's moreso a total-body workout.Those benefits extend to your bones. "Anything that has some impact to it or that places a load on your bones will increase their density. Jumping rope certainly has that aspect to it.
Lose belly fat.Jump rope helps to loose fat faster, particularly around your abs and your trunk muscles.
Strengthens arms and legs.Just 30 minutes of jumping rope does wonders for building strength, and increasing overall muscle tone. Spending a half hour jumping rope is a warmup exercise and daily mini-workout in one, especially for the arms and legs — your quadriceps, deltoids, and hamstrings all get the benefits of jumping rope.
Improves body posture.J

ump rope helps with the development of the left and right hemispheres of your brain, which further enhances spatial awareness, improves reading skills, increases memory and makes you more mentally alert.

Improves cardiovascular health.Jumping rope can help people of all ages achieve a range of fitness goals,as it has cardiovascular benefits and improves muscle endurance and coordination. … it can raise your heart rate two to three times faster than other exercises.
Improves brain health.Jumping rope helps with the development of the left and right hemispheres of your brain, which further enhances spatial awareness, improves reading skills, increases memory and makes you more mentally alert.
Posted by:
amazingkozi
| Posted on:
January 7, 2020
A squat is a strength exercise in which the trainee lowers their hips from a standing position and then stands back up. During the descent of a squat, the hip and knee joints flex while the ankle joint dorsiflexes; conversely the hip and knee joints extend and the ankle joint plantarflexes when standing up.
Doing this kind of exercise gives the following benefits:
Burns calories.The more weight you squat, the more energy you burn. Be mindful, though squatting with too much weight when you aren't ready increases your risk for injury.
Aids weight loss.Squats Will Help You Lose Weight On Your Thighs Because… If you burn calories, you'll slim down.With squats you are going to burn plenty of calories. Once you have more and more experience squatting, the calories will keep burning and muscle will keep building.
Tone legs.Squats obviously help to build your leg muscles (including your quadriceps, hamstrings, and calves), but they also create an anabolic environment, which promotes body-wide muscle building.
Lift bottom.Perform your first squats sideways in front of a mirror, so that you can check your knees and the curvature of your back. Pause at the bottom. Then, rise again squeezing your buttocks as you stand. You should feel your gluteal muscles and upper thighs working to lift you to a standing position.
Improves flexibility.Squats are one of the most effective exercise for training your lower body and core, but only if it's done correctly. Most people make a mistake while squatting, which is because they lack the flexibility to squat properly. The reason they lack this flexibility is because they don't stretch. Anterior hip stretch.
Strengthens core.Although building strong core muscles has numerous benefits, including improving your posture, many people build their core to develop a set of six-pack abs to show off at the beach. You can work your core muscles through a long list of body-weight exercises, including squats.
Builds muscles.Squats obviously help to build your leg muscles (including your quadriceps, hamstrings, and calves), but they also create an anabolic environment, which promotes body-wide muscle building.So squats can actually help you improve both your upper and lower body strength.
Posted by:
amazingkozi
| Posted on:
January 2, 2020
Weight loss, in the context of medicine, health, or physical fitness, refers to a reduction of the total body mass, due to a mean loss of fluid, body fat or adipose tissue or lean mass, namely bone mineral deposits, muscle, tendon, and other connective tissue.
Health Benefits of Losing Weight
Decreased risk of diabetes.Weight loss is enough to restore blood sugar to a normal level, which eliminates diabetes. Even if it doesn't get your blood sugar completely back to normal, it may lower your need for insulin therapy or other medications to control diabetes.
Lowered blood pressure.Blood pressure rises with body weight, so losing weight is one of the best ways to improve your numbers.Losing weight can lower both systolic and diastolic blood pressure — and potentially eliminate high blood pressure.
Improved cholesterol levels.If you are obese and have high cholesterol, losing weight should help lower your cholesterol, as well as your risk for other obesity-related conditions including diabetes and cardiovascular disease.
Decreased risk of heart disease.Even dropping as few as 10 pounds can lower your risk of heart disease and help you feel better. Keep losing weight, and you'll probably experience fewer joint and muscle pains, regulate your blood pressure, reduce the burden on your heart and circulatory system and even sleep better.
Decreased risk of certain cancers.Excess body fat increases your risk for several cancers, including colorectal, post-menopausal breast, uterine, esophageal, kidney and pancreatic cancers.Therefore,burning and loosing that fat will be of great help.
Improved mobility.Drop in weight cut the risk of mobility problems.
Decreased joint pain.Being overweight may increase inflammation in the body that can lead to joint pain. Losing weight can reduce this inflammatory response.
Improved blood sugar levels.If you are pre-diabetic or diabetic, then losing 5-10 percent of your body weight can help improve your blood sugar numbers. If you are pre-diabetic and can lose this weight, you will lower your risk of developing diabetes by 58 percent.
NOTE.
When you burn more calories than you consume, and lose weight too quickly as a result, your body produces fewer leptin hormones. Insufficient levels could increase your appetite, prompting you to eat more — making weight loss nearly impossible.
Sweating itself doesn't burn a measurable amount of calories, but sweating out enough liquid will cause you to lose water weight. It's only a temporary loss, though.
Posted by:
amazingkozi
| Posted on:
December 31, 2019
Muscle mass is the physical size of the muscle; muscles are often large due to exercise and concentrated physical training, but not exclusively. Muscle strength is one of the accepted components of total fitness, which includes endurance, flexibility, power, and speed.
When determining muscle mass, you want to know how much skeletal muscle you have, and this includes those muscles you're working out at the gym.30 to 40 percent of a healthy person's body mass is made up of skeletal muscle.Greater muscle mass has positive health effects.But, if you have high muscle mass, you can slow down muscle loss and protect your physical ability. Skeletal muscle also improves your overall metabolism. Compared to fat, skeletal muscle burns more calories at rest.
How to build muscle quickly:
Lift heavy things. In fact, despite the widespread belief that muscles only grow after lifting heavy, you can and will build muscle just as effectively using lighter weights and higher reps.
Then, lift heavier things than last time (progressive overload).
Specifically include squats and deadlifts and compound movements – they target the muscle building triggers in your entire body.
Target sets and reps in the 4-5 sets of 6-10 reps per set.For muscular endurance, do two to three sets of 12 reps or more at 60 to 70 percent of your max. To gain muscle mass (hypertrophy), do three to six sets of six to 12 reps at 70 to 80 percent of your max. For muscular strength, do two to six sets of less than six reps at 80 to 90 percent of your max.
Foods for gaining lean muscle.
Eggs. Eggs contain high-quality protein, healthy fats and other important nutrients like B vitamins and choline.Proteins are made up of amino acids, and eggs contain large amounts of the amino acid leucine, which is particularly important for muscle gain.
Salmon.Salmon is a great choice for muscle building and overall health.Omega-3 fatty acids play an important role in muscular health and may even increase muscle gain during exercise programs.
Chicken Breast.The chicken breast is lean and has the most protein by weight, making it ideal for people who want to lose weight, maintain muscle mass and improve recovery. Fattier cuts like the thigh, drumstick and wings have more calories, which make them better for people wanting to build muscle.
Greek Yogurt.Many of the potential health benefits of Greek yogurt relate to its high protein content. A protein-rich diet may help reduce hunger, boost metabolism, and build muscle.It is also an excellent source of calcium, which can help improve bone health.
Tuna.Tuna, for its part, is a source of high-quality protein with almost no fat. It contains all essential amino acids required by the body for growth and maintenance of lean muscle tissue.
Lean Beef.Beef is packed with high-quality protein, B vitamins, minerals and creatine.Consuming lean red meat can increase the amount of lean mass gained with weight training.
Shrimp.Shrimp contains a high amount of the amino acid leucine, which is necessary for optimal muscle growth.
Soybeans.Soy protein is equally effective as animal protein in building muscle mass and strength.
Tips to help you build muscle mass
Eat breakfast,eat every three hours,eat protein with each meal,eat fruit and vegetables with each meal,eat carbs only after your workout,eat healthy fats,drink water and eat whole foods 90% of the time.
Posted by:
amazingkozi
| Posted on:
December 27, 2019
Abdominal crunches, bridges and planks are a few of the most popular exercises that can help strengthen your abdominal muscles and create the appearance of six-pack abs.
Not everyone can get six-pack abs THAT ARE VISUALLY APPARENT. Some people have highly defined 8-packs! Some people will never EVER have visually apparent 6-pack abs no matter how skinny they are or how hard they work their abdominal muscles.Body fat must be low but there also has to be muscle tone.
It could take a woman with average body fat about 20 to 26 months to achieve the appropriate amount of fat loss for six-pack abs. The average man would need about 15 to 21 months.
Simple ways to achieve six-pack abs quickly and safely.
Do More Cardio.
Exercise Your Abdominal Muscles.
Increase Your Protein Intake.
Try High-Intensity Interval Training.
Stay Hydrated.
Stop Eating Processed Food.
Cut Back on Refined Carbs.
Fill up on Fiber.
Best Ab Workout For A Six-Pack
Flat Bench Lying Leg Raise.As you keep your legs extended, straight as possible with your knees slightly bent but locked raise your legs until they make a 90-degree angle with the floor. Exhale as you perform this portion of the movement and hold the contraction at the top for a second.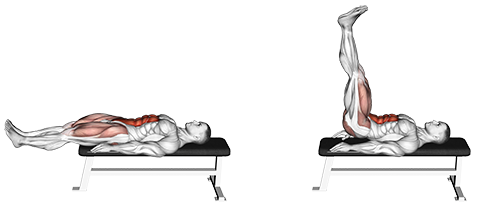 Jackknife Sit-Up.Lie flat on the floor (or exercise mat) on your back with your arms extended straight back behind your head and your legs extended also. … As you exhale, bend at the waist while simultaneously raising your legs and arms to meet in a jackknife

position.When you do a basic jackknife situp on the floor, you are using nearly a dozen muscles, yet your rectus abdominis is the targeted muscle. You also use your obliques, and muscles throughout your thighs, gluteus, chest and calves to complete this move.
Flat Bench Leg Pull-In. Lie on an exercise mat or a flat bench with your legs off the end. Place your hands either under your glutes with your palms down or by the sides holding on to the bench (or with palms down by the side on an exercise mat). Also extend your legs straight out.
Toe Touchers.When done properly, standing toe touches not only work your abdominal muscles, but stretch and work your calves, your hamstrings, your butt and your shoulders. Depending on the variation, they can also offer an effective workout for your obliques.
Crunches.The crunch is one of the most popular abdominal exercises. It involves the entire abs, but primarily it works the rectus abdominis muscle and also works the obliques. It allows both building six-pack abs, and tightening the belly.
Reverse Crunch.The reverse crunch is a basic core strengthening exercise that also improves stability throughout the lower back, hips and spine.Tighten your abs to lift your hips off the floor as you crunch your knees inward to your chest.
The main goal alongside building abs is loosing bellty fat.Here are the foods that help in burning fat in the belly.
1.Broccoli.Broccoli, in particular, is such a standout among all the deep-colored veggies because it's one of the few that contain calcium, which has been shown to increase fat loss, especially in the abdominal area.
2.Eggs.The protein and healthy fats in eggs make you feel full, which keeps you from snacking on empty calories between meals.People who eat eggs in the morning lose more weight and belly fat than those who opt for high carb foods like bagels or cereal.
3.Green tea.Besides reducing your risk of cancer and heart disease, green tea benefits the whole body and contains catechins, antioxidants that studies show can help reduce belly fat.If you sip green tea before a workout, these compounds can also increase your fat burn during aerobic exercise.
4.Yogurt.Yogurt is rich in calcium and research has linked calcium to lower levels of abdominal fat.All the nutrients in food work together, but calcium has been singled out because it may help to increase fat burn, reduce fat absorption, and slightly rev metabolism.
5.Lean meat. Lean meat provides less calories for equal amounts of protein than higher fat meat.Turkey is the best source of lean meat.
6.Bananas.Bananas are rich in healthy fibers that help curb appetite and make the body burn fat. The indigestible fibers that are present in bananas, or a resistant starch, block the carbohydrates from being absorbed by the body. This makes the body burn fat as energy instead of the carbohydrates.
6.Split peas.Plant-based meals that are rich in protein can be a useful way to aid weight loss. Mixing fat-burning foods such as split peas with other beneficial sources of protein is one way of doing this. Examples of this include split pea soup, or split pea dal.
7.Canola oil.
I
ncluding 
canola oil in a healthy diet may help reduce abdominal fat in as little as four weeks.Canola oil is high in monounsaturated fatty acids, which have beneficial effects on body composition, especially in people with obesity.
It should be okay to train Abs daily, but not necessary. The Abs can be trained more frequently than other muscle groups and can often benefit from frequent training but at the same time, rest and recovery is not a bad idea. Choose 2-3 exercises doing 2-3 sets each and train 2 days on 1 day off or every other day.
Posted by:
amazingkozi
| Posted on:
December 19, 2019
Belly fat is excess abdominal fat surrounding the organs in your stomach.
There are three types of fat: triglycerides (the fat that circulates in your blood), subcutaneous fat (the layer directly below the skin's surface) and visceral fat (dangerous belly fat).
One of the most common causes of belly fat is simply eating too much and moving too little. When we eat more calories than we burn each day, an energy imbalance causes weight gain. But there are other causes of belly fat, too. As we age, our metabolism naturally slows down, and total body fat gradually increases.
Effective Tips to Lose Belly Fat 
Avoid Foods That Contain Trans Fats.
Don't Drink Too Much Alcohol.
Eat a High-Protein Diet.
Reduce Your Stress Levels.
Don't Eat a Lot of Sugary Foods.
Do Aerobic Exercise (Cardio) .
Cut Back on Carbs, Especially Refined Carbs.
 Exercises that help to burn stomach fat quickly.
1: Running.
2: Elliptical trainer.
3: Bicycling.
4: The bicycle exercise.
5: The Captain's chair leg raise.
6: Exercise ball crunch.
7: Vertical leg crunch.
8: Reverse crunch.
While any exercise can burn calories, brisk walking for 45 minutes mobilizes the body to dip into fat reserves and burn stored fat. It is especially good for burning internal belly fat, called visceral fat, that not only contributes to your waistline but also raises your risks for diabetes and heart disease.
Ways to Lose Weight Without Diet or Exercise
Chew Thoroughly and Slow Down. Your brain needs time to process that you've had enough to eat.
Use Smaller Plates for Unhealthy Foods.
Eat Plenty of Protein.
Store Unhealthy Foods out of Sight.
Eat Fiber-Rich Foods.
Drink Water Regularly.
Serve Yourself Smaller Portions.
Eat Without Electronic Distractions.
Foods That Banish Belly Fat
Oatmeal. You may think that eating less will help you lose weight, but you should never skip meals, especially the first meal of the day.
Blueberries. Research has shown that a diet rich in blueberries may help diminish belly fat.
Almonds.
Salmon.
Lettuce.
Drinks that are some of the best to include in your diet when trying to lose weight and get healthy are;
Green Tea.
Coffee. Coffee is used by people around the world to boost energy levels and lift mood.
Black Tea.
Water.
Apple Cider Vinegar Drinks.
Ginger Tea.
High-Protein drinks.
Vegetable Juice.
Lemon water.
Grape juice.
Chamomile tea.