sports
now browsing by tag
Posted by:
amazingkozi
| Posted on:
January 24, 2020
Cellulite is the herniation of subcutaneous fat within fibrous connective tissue that manifests topographically as skin dimpling and nodularity, often on the pelvic region (specifically the buttocks), lower limbs, and abdomen. This condition occurs in most postpubescent females.
You can get rid of the condition through the following exercises:
1.Squat jump.
If you really want to lose weight and/or tone your body, as well as get rid of cellulite, you need to get moving. Strengthen your butt and thigh muscles to reduce fat cells in these areas and to tighten your connective tissue.
2.Lateral lunges.
Lateral lunge The side lunge also targets the inner and outer thighs, making for a well-rounded lower body routine. To get moving: Stand with your feet shoulder-width apart and your arms by your sides.These moves will help increase muscle and burn calories.
3.Glute bridges.
The Glute Bridge is one of the most effective exercises to tone the glutes and the hamstrings. This lower body workout isolates and strengthens the glutes, hamstrings, the core stability muscles, the hip muscles, the lower back muscles, and strengthens the stabilization of the spinal cord.
4.Pile squats.
The pile squat is a version of the squat exercise that is performed with a dumbbell and strengthens the glute, abdominal and leg muscles.
While doing this,go back to starting position and do 15-20reps for a cellulite busting workout.
5.Calf-raise squats.
Stand with your feet about three to four feet apart, toes turned out.
Raise your left heel off the floor, and begin to pulse the hips up and down, isolating the left calf.
Continue pulsing for 30 seconds, and then switch sides to complete this exercise.
NB:These exercises have skin-firming and toning properties.Therefore,its effective and motivate for everyone.
Posted by:
amazingkozi
| Posted on:
January 21, 2020
If your goal is weight loss, choosing one of the vigorous, flowing styles of yoga,is the smart choice.You will burn calories, tone and stretch your muscles, and provide weight bearing exercise for your bones with these forms of yoga.
A fat tummy may be an aesthetic concern for many, but it can be a severe … To understand the potential harm that abdominal fat poses to our health
The following poses will help burn thet fat in your belly easily:
1.Cobra pose.
Performing this asana regularly can not only help reduce belly fat but also cure digestive ailments like constipation. The cobra pose is great for those suffering from respiratory disorders and back pain. Begin with lying flat on your stomach. Place your forehead on the ground and keep palms underneath the shoulders.
2.Triangle pose.
Triangle Pose is a standing asana in modern yoga as exercise.The twisting motion of the asana helps to improve the digestion and reduces the fat deposit from the belly. The pose engages the muscles of your legs and arms and helps you build more muscles.
3.Down facing pose.
Now you have to hold the pose for some time. When you are performing this pose, you can actually feel your belly area undergoing compression which in real aids weight loss. Doing this pose helps increase bone density and helps you get rid of fatigue.
4.Bridge pose.
It is claimed that the bridge pose if done regularly, can help reduce your belly fat by keeping your supporting muscles strong. Some of the health benefits of doing Setu Bandhasana include improved circulation of blood and better digestion. The bridge pose also stretches the neck, spine, chest and hips.
5.Fish pose.
Doing this pose regularly will help burn belly fat.
6.Mountain pose.
Mountain Pose makes a great a starting position, resting pose, or tool to improve posture.
The pose stretches out your abdomen muscles and help burn the belly fat.
Posted by:
amazingkozi
| Posted on:
January 19, 2020
Bridge Pose Lie on floor with knees bent and directly over heels. Place arms at sides palms down. Exhale then press feet into floor as you lift hips. Clasp hands under lower back and press arms down lifting hips until thighs are parallel to floor b.
This kind of yoga gives the following benefits:
Strengthens core muscles.This pose requires the body to squeeze through the legs, glutes, core, and lower back, and is a great lower body strength building exercise.In addition to its muscle-building benefits, bridge pose also opens up the chest and shoulders, while giving the spine and hip flexors a good stretch.
Gives a flat toned belly.Most yoga poses are full body exercises, but some place greater emphasis on … Begin the setu bandha sarvangasana or bridge pose lying on your back and you will get a flat tummy.
Improves digestion.Yoga not only helps stretch and tone the muscles of the abdomen, it can also stimulate the endocrine glands to make them work more efficiently. The entire digestive system thus becomes well oiled and functions smoothly to improve digestive health. Yoga helps increase awareness of the body and its ailments.
Relieves stress and anxiety.This Simple 30-Second practice helps relieve anxiety.
Improves blood circulation.Practicing the Bridge Pose increases blood circulation through the arteries and provides rest to your heart muscles. This prevents cardiac arrest or blockage from occurring in the future. Additionally, this pose works out your upper and lower back muscles.
Strengthens back,shoulders and chest.The yoga supported bridge pose may help relieve your low back pain. In the supported pelvic bridge, the core abdominal, back, hip and hamstring muscles work in concert to bring and keep the lower body in the air.Also,it is a beginning backbend that helps to open the chest.Keep your thighs and inner feet parallel. Clasp the hands below your pelvis and extend through the arms to help you stay on the tops of your shoulders.
Posted by:
amazingkozi
| Posted on:
January 11, 2020
To get stronger legs, do exercises that will build your leg muscles, like squats, lunges, and deadlifts. Do these exercises several times a week, but give yourself a day off in between workouts so your leg muscles have time to rest and repair.
By working them out you will end up gaining the following benefits:
Healthy heart.Healthy leg muscles help blood make the long trek uphill from your toes back to your heart. Smooth, efficient motion is the most obvious advantage of powerful leg muscles: They have to be strong to keep the rhythm, the even cadence of the strides that keep you erect.That pumping power comes from the legs.
Fewer injuries.Strengthen your weaker side to cut down on injuries.
A nice butt.The most common exercises for the butt, hips and thighs are the big three — squats, lunges, and deadlifts which you do for stronger legs.
Better upper body.Heavy leg exercises rapidly boost your testosterone and growth hormone levels. If you do arm exercises when this happens or any other body part, really you'll get MORE gains in your muscles. So instead of doing the obligatory one "Leg Day" per week, train your legs every time you go to the gym.
Higher metabolic rate.

If you can build up your 

muscle, and reduce your body fat, you'll have a higher resting metabolism and more quickly burn the fuel in your body.

Improves stamina.Deadlifts are one great exercise for developing leg stamina. Hit your lower body two times per week, making sure to perform exercises that work your quads, glutes and hamstrings. Examples of effective moves include: squats, deadlifts, lunges, leg presses, hamstring curls, step-ups and split squats.
Solid core strength.Whether you're running or lifting weights, a strong core often means more powerful and controlled movements. Strengthening your core means building up your core muscles. … Those deep core muscles may be getting stronger when you workout out your legs daily.
Posted by:
amazingkozi
| Posted on:
January 10, 2020
Cat yoga is a gentle flow between two poses that warms the body and brings flexibility to the spine. It stretches the back torso and neck, and softly stimulates and strengthens the abdominal organs. It also open the chest, encouraging the breath to become slow and deep.
This type of yoga has the following benefits:
Improves posture and balance.It is a yoga pose that's said to improve posture and balance — ideal for those with back pain.
Relieves stress and calms mind.The asana flow helps relieve stress from menstrual cramps, lower back pain, and sciatica.
Increases coordination.It is a powerful pose

for the mind. The breath synchronized movement

increases coordination

, fosters intentional focus, and invigorates prana (the vital life force in the body). Furthermore, it is associated with

increased

emotional balance and stability of the mind.

Stretches the hips,abdomen and back.The movement also stretches the muscles of the hips, back, abdomen.Cat Stretch held at its peak releases tension of the upper back.
Strengthens and stretches the spine and neck.Exhaling in spinal extension (Cat Stretch) increases the secondary curves and decreases the primary curves. Cat Pose strengthens and improves flexibility of the spine through utilization of the reciprocal relationship between the primary and secondary curves.This increases flexibility of the neck, shoulders, and spine.
Posted by:
amazingkozi
| Posted on:
January 7, 2020
A squat is a strength exercise in which the trainee lowers their hips from a standing position and then stands back up. During the descent of a squat, the hip and knee joints flex while the ankle joint dorsiflexes; conversely the hip and knee joints extend and the ankle joint plantarflexes when standing up.
Doing this kind of exercise gives the following benefits:
Burns calories.The more weight you squat, the more energy you burn. Be mindful, though squatting with too much weight when you aren't ready increases your risk for injury.
Aids weight loss.Squats Will Help You Lose Weight On Your Thighs Because… If you burn calories, you'll slim down.With squats you are going to burn plenty of calories. Once you have more and more experience squatting, the calories will keep burning and muscle will keep building.
Tone legs.Squats obviously help to build your leg muscles (including your quadriceps, hamstrings, and calves), but they also create an anabolic environment, which promotes body-wide muscle building.
Lift bottom.Perform your first squats sideways in front of a mirror, so that you can check your knees and the curvature of your back. Pause at the bottom. Then, rise again squeezing your buttocks as you stand. You should feel your gluteal muscles and upper thighs working to lift you to a standing position.
Improves flexibility.Squats are one of the most effective exercise for training your lower body and core, but only if it's done correctly. Most people make a mistake while squatting, which is because they lack the flexibility to squat properly. The reason they lack this flexibility is because they don't stretch. Anterior hip stretch.
Strengthens core.Although building strong core muscles has numerous benefits, including improving your posture, many people build their core to develop a set of six-pack abs to show off at the beach. You can work your core muscles through a long list of body-weight exercises, including squats.
Builds muscles.Squats obviously help to build your leg muscles (including your quadriceps, hamstrings, and calves), but they also create an anabolic environment, which promotes body-wide muscle building.So squats can actually help you improve both your upper and lower body strength.
Posted by:
amazingkozi
| Posted on:
January 4, 2020
Morning is the period of time from sunrise to noon. There are no exact times for when morning begins because it can vary according to one's lifestyle and the hours of daylight at each time of year. However, morning strictly ends at noon, which is when afternoon starts.
Most adults should try for at least 150 minutes (2.5 hours) a week of moderate intensity activity.30 minutes of brisk walking on at least five days a week is one way to meet this goal.Walking in the morning has many benefits.These benefits include:
Improves heart health.Walking for 30 minutes per day can reduce your risk for heart disease by 19 percent.
Aids weight loss.Physical activity, such as walking, is important for weight control because it helps you burn calories. If you add 30 minutes of brisk walking to your daily routine, you could burn about 150 more calories a day.So keep walking, but make sure you also eat a healthy diet.
Regulates blood pressure.Just 30 minutes of exercise every morning may be as effective as medication at lowering blood pressure for the rest of the day.
Improves circulation.Getting up and getting active is one proven way to increase blood circulation.Just twenty to thirty minutes of brisk walking a day is enough to get your blood pumping, which is why cardio exercise is one of the most recommended ways to improve treatment for poor circulation in hands and feet.
Reduces risks of diabetes.By walking every day for 30 minutes to an hour, people with diabetes can reap the following benefits: Improved glucose control.
Strengthens bones.Walking is a great way to improve or maintain your overall health. Just 30 minutes every day can increase cardiovascular fitness, strengthen bones, reduce excess body fat, and boost muscle power and endurance.
Improves digestion.Post-meal walk, as short as 15 minutes, can in fact help with digestion and improve blood sugar levels.Walking speed the rate at which food moved through the stomach.
Reduces stress.Like any other cardiovascular exercise, brisk walking boosts endorphins, which can reduce stress hormones and alleviate mild depression. Regular exercise, through the production of feel-good endorphins, can improve mood and self-esteem.
Uplifts mood.Walking for just 12 minutes even without traditional happiness factors like sunshine, nature, social contact, and uptempo music, turns out to be a powerful mood lifter.Regular exercise increases blood and energy flow to the

 brain, improving mental acuity.

Improves memory.A morning bout of exercise combined with brief light-intensity walking breaks to frequently disrupt sitting throughout an 8-hour day can boost your short-term memory.
#health #fitness #exercise #fitnessblog #gym #body #education #blog #wordpress #sports #google #inspire #motivation #family #healthbenefits #worldwide
Posted by:
amazingkozi
| Posted on:
December 31, 2019
Muscle mass is the physical size of the muscle; muscles are often large due to exercise and concentrated physical training, but not exclusively. Muscle strength is one of the accepted components of total fitness, which includes endurance, flexibility, power, and speed.
When determining muscle mass, you want to know how much skeletal muscle you have, and this includes those muscles you're working out at the gym.30 to 40 percent of a healthy person's body mass is made up of skeletal muscle.Greater muscle mass has positive health effects.But, if you have high muscle mass, you can slow down muscle loss and protect your physical ability. Skeletal muscle also improves your overall metabolism. Compared to fat, skeletal muscle burns more calories at rest.
How to build muscle quickly:
Lift heavy things. In fact, despite the widespread belief that muscles only grow after lifting heavy, you can and will build muscle just as effectively using lighter weights and higher reps.
Then, lift heavier things than last time (progressive overload).
Specifically include squats and deadlifts and compound movements – they target the muscle building triggers in your entire body.
Target sets and reps in the 4-5 sets of 6-10 reps per set.For muscular endurance, do two to three sets of 12 reps or more at 60 to 70 percent of your max. To gain muscle mass (hypertrophy), do three to six sets of six to 12 reps at 70 to 80 percent of your max. For muscular strength, do two to six sets of less than six reps at 80 to 90 percent of your max.
Foods for gaining lean muscle.
Eggs. Eggs contain high-quality protein, healthy fats and other important nutrients like B vitamins and choline.Proteins are made up of amino acids, and eggs contain large amounts of the amino acid leucine, which is particularly important for muscle gain.
Salmon.Salmon is a great choice for muscle building and overall health.Omega-3 fatty acids play an important role in muscular health and may even increase muscle gain during exercise programs.
Chicken Breast.The chicken breast is lean and has the most protein by weight, making it ideal for people who want to lose weight, maintain muscle mass and improve recovery. Fattier cuts like the thigh, drumstick and wings have more calories, which make them better for people wanting to build muscle.
Greek Yogurt.Many of the potential health benefits of Greek yogurt relate to its high protein content. A protein-rich diet may help reduce hunger, boost metabolism, and build muscle.It is also an excellent source of calcium, which can help improve bone health.
Tuna.Tuna, for its part, is a source of high-quality protein with almost no fat. It contains all essential amino acids required by the body for growth and maintenance of lean muscle tissue.
Lean Beef.Beef is packed with high-quality protein, B vitamins, minerals and creatine.Consuming lean red meat can increase the amount of lean mass gained with weight training.
Shrimp.Shrimp contains a high amount of the amino acid leucine, which is necessary for optimal muscle growth.
Soybeans.Soy protein is equally effective as animal protein in building muscle mass and strength.
Tips to help you build muscle mass
Eat breakfast,eat every three hours,eat protein with each meal,eat fruit and vegetables with each meal,eat carbs only after your workout,eat healthy fats,drink water and eat whole foods 90% of the time.
Posted by:
amazingkozi
| Posted on:
December 27, 2019
Abdominal crunches, bridges and planks are a few of the most popular exercises that can help strengthen your abdominal muscles and create the appearance of six-pack abs.
Not everyone can get six-pack abs THAT ARE VISUALLY APPARENT. Some people have highly defined 8-packs! Some people will never EVER have visually apparent 6-pack abs no matter how skinny they are or how hard they work their abdominal muscles.Body fat must be low but there also has to be muscle tone.
It could take a woman with average body fat about 20 to 26 months to achieve the appropriate amount of fat loss for six-pack abs. The average man would need about 15 to 21 months.
Simple ways to achieve six-pack abs quickly and safely.
Do More Cardio.
Exercise Your Abdominal Muscles.
Increase Your Protein Intake.
Try High-Intensity Interval Training.
Stay Hydrated.
Stop Eating Processed Food.
Cut Back on Refined Carbs.
Fill up on Fiber.
Best Ab Workout For A Six-Pack
Flat Bench Lying Leg Raise.As you keep your legs extended, straight as possible with your knees slightly bent but locked raise your legs until they make a 90-degree angle with the floor. Exhale as you perform this portion of the movement and hold the contraction at the top for a second.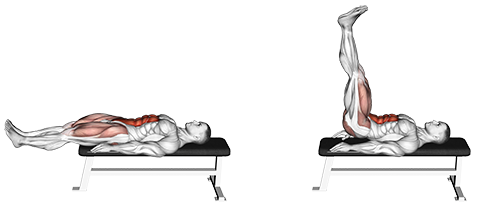 Jackknife Sit-Up.Lie flat on the floor (or exercise mat) on your back with your arms extended straight back behind your head and your legs extended also. … As you exhale, bend at the waist while simultaneously raising your legs and arms to meet in a jackknife

position.When you do a basic jackknife situp on the floor, you are using nearly a dozen muscles, yet your rectus abdominis is the targeted muscle. You also use your obliques, and muscles throughout your thighs, gluteus, chest and calves to complete this move.
Flat Bench Leg Pull-In. Lie on an exercise mat or a flat bench with your legs off the end. Place your hands either under your glutes with your palms down or by the sides holding on to the bench (or with palms down by the side on an exercise mat). Also extend your legs straight out.
Toe Touchers.When done properly, standing toe touches not only work your abdominal muscles, but stretch and work your calves, your hamstrings, your butt and your shoulders. Depending on the variation, they can also offer an effective workout for your obliques.
Crunches.The crunch is one of the most popular abdominal exercises. It involves the entire abs, but primarily it works the rectus abdominis muscle and also works the obliques. It allows both building six-pack abs, and tightening the belly.
Reverse Crunch.The reverse crunch is a basic core strengthening exercise that also improves stability throughout the lower back, hips and spine.Tighten your abs to lift your hips off the floor as you crunch your knees inward to your chest.
The main goal alongside building abs is loosing bellty fat.Here are the foods that help in burning fat in the belly.
1.Broccoli.Broccoli, in particular, is such a standout among all the deep-colored veggies because it's one of the few that contain calcium, which has been shown to increase fat loss, especially in the abdominal area.
2.Eggs.The protein and healthy fats in eggs make you feel full, which keeps you from snacking on empty calories between meals.People who eat eggs in the morning lose more weight and belly fat than those who opt for high carb foods like bagels or cereal.
3.Green tea.Besides reducing your risk of cancer and heart disease, green tea benefits the whole body and contains catechins, antioxidants that studies show can help reduce belly fat.If you sip green tea before a workout, these compounds can also increase your fat burn during aerobic exercise.
4.Yogurt.Yogurt is rich in calcium and research has linked calcium to lower levels of abdominal fat.All the nutrients in food work together, but calcium has been singled out because it may help to increase fat burn, reduce fat absorption, and slightly rev metabolism.
5.Lean meat. Lean meat provides less calories for equal amounts of protein than higher fat meat.Turkey is the best source of lean meat.
6.Bananas.Bananas are rich in healthy fibers that help curb appetite and make the body burn fat. The indigestible fibers that are present in bananas, or a resistant starch, block the carbohydrates from being absorbed by the body. This makes the body burn fat as energy instead of the carbohydrates.
6.Split peas.Plant-based meals that are rich in protein can be a useful way to aid weight loss. Mixing fat-burning foods such as split peas with other beneficial sources of protein is one way of doing this. Examples of this include split pea soup, or split pea dal.
7.Canola oil.
I
ncluding 
canola oil in a healthy diet may help reduce abdominal fat in as little as four weeks.Canola oil is high in monounsaturated fatty acids, which have beneficial effects on body composition, especially in people with obesity.
It should be okay to train Abs daily, but not necessary. The Abs can be trained more frequently than other muscle groups and can often benefit from frequent training but at the same time, rest and recovery is not a bad idea. Choose 2-3 exercises doing 2-3 sets each and train 2 days on 1 day off or every other day.
Posted by:
amazingkozi
| Posted on:
December 21, 2019
 Tips to wake up feeling energized.
Set aside enough time to sleep.
Keep your bedroom dark, quiet, and cool.
Let the sunshine in.
Seek out the sun with a morning workout.
Follow a calming bedtime routine.
Include meditation or yoga in that bedtime routine.
Reduce your stress overall.
Use the power of scent.
Creating Healthy Morning Habits
Develop a morning routine. If you don't have much structure to your mornings, make a plan to change that.
Get a good night's sleep.
Stretch as soon as you wake up. Morning stretching can provide you with the best start to the day:It increases flexibility in muscles and joints. It improves circulation.
Exercise in the morning.
Take a morning shower.A warm morning shower, punctuated by a few minutes of cool water at the end, can energize the body and help stimulate the lymphatic system. It's great for people with oily skin because it opens the pores and cleanses oil buildup from the night's rest.
Eat a good breakfast. A good breakfast is one that will give you energy to kick-start your day, keep you full enough to keep food off your mind, and give you nutrition and sustenance.
Drink water.
Tips to Sleep Better at Night
Set Your Bedroom Temperature.
Don't Eat Late in the Evening.
Relax and Clear Your Mind in the Evening.
Take a Relaxing Bath or Shower.
Rule Out a Sleep Disorder.
Get a Comfortable Bed, Mattress and Pillow.
Exercise Regularly — But Not Before Bed.
Don't Drink Any Liquids Before Bed.
Try to do this workout every morning to burn calories, ease away aches and pains, boost your mood and feel more alert.
Strong hamstrings will help you run faster and improve explosiveness and power while helping out posture and preventing leg injuries. Pair those strengthened hamstrings with strong quads and you'll reduce strain on various ligaments.

By strengthening the quadriceps, hamstrings, and other muscles surrounding the knee, the knee becomes more stable and bones experience less impact during weight bearing, which in turn reduces pain.

Trunk rotation is an exercise used to improve core strength, stability, flexibility, and greater mobility of the spine. The exercise can be done in a variety of ways allowing you to progress, challenge, and perform what works best for you. The trunk is a vital part of any motion the body performs.

The purpose of the pectoral stretch is to lengthen chest muscles so that healthier positioning feels natural and comfortable. If you merely hold your elbow to the side, little lengthening can occur. Changing the position will get the purpose – lengthening anterior (front) muscles that go across the chest.

It helps in reducing tension in muscles supporting the spine; tension in these muscles can worsen pain from any number of back pain conditions.
Best foods you can eat in the morning.
Eggs:-Getting enough protein in our diets is an important way of helping our body's health. Each egg contains about six grams of protein as well as helpful amino acids. Getting our share of protein for the day can help with weight management, increase muscle mass, lower blood pleasure and help our bones, as well.
Greek Yogurt:-It is protein-rich, so it may help people feel fuller for longer.This helps reduce appetite and may aid weight loss.
Coffee:-Coffee is a potent source of healthful antioxidants; antioxidants help keep us healthy at the micro-level by protecting our cells from damage. Finally, chlorogenic acid, an important antioxidant found almost exclusively in coffee, is also thought to help prevent cardiovascular disease.
Oatmeal. 
Chia seeds:-Despite their small size, chia seeds are full of important nutrients. They are an excellent source of omega-3 fatty acids, rich in antioxidants, and they provide fiber, iron, and calcium. Omega-3 fatty acids help raise HDL cholesterol, the "good" cholesterol that protects against heart attack and stroke.
Berries:-Berries of all kinds, such as blueberries, strawberries, raspberries, and blackberries, are an excellent way to start the morning. They are low in calories, high in fiber, and contain disease-fighting antioxidants.
Nuts:-They have

high levels of fiber,

polyunsaturated fats, and magnesium that may all contribute to lower cholesterol and improved heart health.

Green tea:-It is loaded with antioxidants and nutrients that have powerful effects on the body. These include improved brain function, fat loss, a lower risk of cancer e.t.c
Benefits of Eating Oats and Oatmeal
Oats Are Incredibly Nutritious.
Whole Oats Are Rich in Antioxidants, Including Avenanthramides.
Oats Contain a Powerful Soluble Fiber Called Beta-Glucan.
They Can Lower Cholesterol Levels and Protect LDL Cholesterol From Damage.
Oats Can Improve Blood Sugar Control.
Oatmeal Is Very Filling and May Help You Lose Weight.
Health tonics you should drink first thing in the morning:
Lemon juice with honey. As a rich source of vitamin C, lemon juice protects the body from Immune system deficiencies. Drinking lemon juice with warm water every morning helps in maintaining the pH balance of the body. … Lemon juice with warm water helps in quick weight loss as it promotes digestion and increases the metabolic rate.
Jeera water. If you frequently suffer from digestion problems, then you need to start drinking jeera water in the morning.
Apple cider vinegar. Taking ACV in the morning will help detox and cleanse your liver, as well as clear out bacteria in your body. Plus, apple cider vinegar has been known to curb random cravings, since it balances your system and keeps your blood sugar levels at bay.
Ajwain water.It helps you promote your heart health. Ajwain seeds have compounds like niacin and thymol, which make improve blood circulation in the heart and prevent it from any diseases.